That's what Ethan got to do for the first time today and apparently he was quite the natural! Mr. Scott (again our wonderful bus driver) had invited him (and my husband) to go fishing at his family farm the beginning of the summer, but it never panned out until today. So today, off they went.

From wh
at I gather from Daddy, Ethan took to fishing like a...a....a fish to water? *ahem* He wasn't so keen on baiting his hook initially, but could cast his line like a pro. And Mr. Scott had that pond so stocked, that everytime he did, a fish took the bait! He caught his first fish within minutes and by the time the afternoon was over, h
ad caught some 20 some-odd fish that he could keep. That's not countin
g the ones that were too small to add to the line. After the first few, Ethan wasn't so squeemish anymore and was handling the worms and the fish with ease. He was even the one to reel in all his catches without any help!

I couldn't help it! I was so proud. As someone w
ho is not really outdoors-inclined when it comes to nature, it was so stinkin' cool to see my son loving every minute of it. And can't you just see that he did?? lol This is Ethan with h
is 1st catch of the day, then his line at the end of the afternoon, with Mr. Scott and the biggest fish of the day! (He's already asking when he can go back! Too
bad school starts so soon.)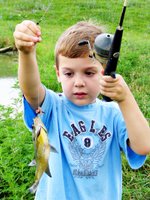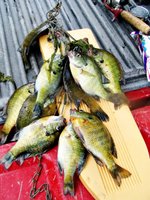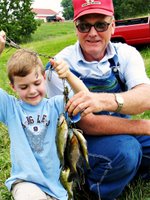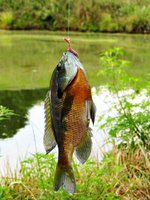 We're off
to a wedding
in the morning and will be gone all day. M
y baby cousin (ha, he's 30!) is finally (your mother's words, not mine, I swear, Joe!
) tying the knot to his sweet
Nikki and getting a beautiful stepdaughter to boot. They're such a lovely little family and I'm so thrilled for him. And hopefully that means Sunday will bring some wedding pictures to share, too! ;)